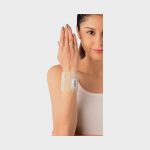 Vissco Wrist Binder With Double Lock
MRP: 170.00
Supports and give stability to the wrist.
Protects the soft tissues of the wrist from injury.
Description
Protects and provides the necessary immobilization to the wrist.
Double lock arrangement offers more firm support.
Supports sprains, postfracture sprains, bursitis, microtrauma, tenosynovitis, arthritis and other conditions requiring orthopaedic support and psychological assurance.