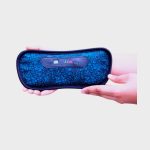 Climaware Eve
Brand/Mfr. : Climaware
Product Highlights
Heat therapy creates local vasodilatation (expansion of blood-vessels) in the pain-affected area, which aids bloodcirculation and increases oxygen supply and activates body?s own natural defenses against pain.
Provides relief from lower abdomen and lower back cramps and pain.
FREE shipping on all orders
MRP: 4,999.00
Description
Climaware Eve
Provides heat therapy to generate quick lower abdomen pain relief to men and women.
Can be applied at a clinically verified temperature range of 38°C (100°F) to 42°C (108°F).
Made up of a special conductive material which allows for heat therapy to be applied effectively.
Ergonomic design specifically developed keeping in mind a woman's body.
Allows to wear it discreetly underneath clothes.