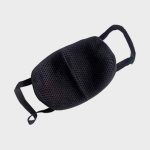 Clouds Respiratry Mask And Respirator
Brand/Mfr. : Clouds
Product Highlights
Flat fold mask.
can be folded when not in use and placed easily into the pocket.
FREE shipping on all orders
MRP: 599.00
Description
BIS certified for P1 class of filtering efficiency.
Filteration efficiency ranging 80 percent when tested against 0.3-micron sodium chloride particle.
Integrated nose clip ensures no exposed metal parts.
Nonwoven fabric inner lining for better moisture absorption and stiffness.
Ultrasonically-welded, latex-free knitted headbands for maximum comfort in hot and humid conditions.