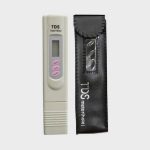 BalRama Digital TDS-3 Meter Digital Tds Meter Water Purity Tester
Brand/Mfr. : BalRama
Product Highlights
Water Filter Quality Measuring Machine.
Portable Pocket Handheld Pen Type Hydroponic PPM Indicator + Hold Function + Leather Case + Room Wall Temperature Thermometer (Ivory).
FREE shipping on all orders
MRP:
Description
Inexpensive and convenient digital tool to instantly check your overall water quality.
TDS – Total Dissolved Solids.
With the push of a button, this device can tell you the water safety level, which will be displayed on a screen.
The lower the TDS level, the purer the water.
Made of super quality material, great tool for water filtration and purification in aquariums, pools, spas, and more.
White in color and has a body made of plastic.
Case of the tester is made of leather and is black in color.
Highly efficient and accurate due to its advanced microprocessor technology.