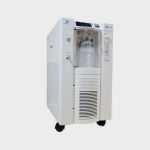 BPL-Oxygen-Concentrate (5 Litres)
Brand/Mfr. : BPL
Product Highlights
Supplies Oxygen to people in need for continuous oxygen supply.
Helps in the treatment of cardiovascular diseases, respiratory diseases, physiological hypoxia, chronic obstructive pneumonia etc.
FREE shipping on all orders
Description
Useful for rehabilitation of an abnormally low amount of oxygen in the body tissues.
5 Liter Home Oxygen Concentrator is suitable for the middle-aged and elderly, people with poor physical fitness, pregnant women.
Restore somatic function after heavy physical or mental exertion and Eliminates fatigue.
Comes with front panel access to reset with quick set up time, ensures efficiency.
Weighs under 30kgs, portable and easy to operate as well.
Uses pressure swing absorption technology to ensure highly concentrated pure oxygen production.
Comes with a Built-in atomizing device for atomizing therapy and has a unique mechanism to trap water molecules.
Has a built-in purity indicator and hour meter.
Has an in-built dual audio alarm system that ensures attention when needed.
Gas circuit is controlled by low-pressure system which ensures secure and reliable operation.