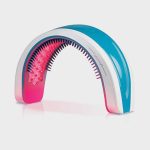 HairMax LaserBand 82
MRP: 55,930.00
Revolutionary Treatment for Hair Loss & Hair Growth.
LaserComb provides low-level laser light energy that stimulates and enlivens hair follicles promoting new hair growth.
Expert's Advice

FDA approved Lase light device hair growth
Description
Reversal of the hair thinning process and increased density, fullness and vibrancy!.
Laser device works through the process of PhotoBiostimulation
Uses safe, nourishing low-level laser light energy.
Stimulate hair follicles at a cellular level.
Restore your hair's natural growth cycle and help your hair.
With consistent use, most users start seeing benefits is 16 weeks. (Based on clinical studies)
Product Contents: HairMax LaserBand 82, rechargeable battery, Power Cord, Travel Bag, User Manual, Quick Start Guide.
Use the LaserComb for 15 minutes per treatment, three days per week.
Just place the LaserComb flat on your scalp and leave it in one spot for 4 seconds.
The convenient vibrating timer will let you know when to move to the next spot.