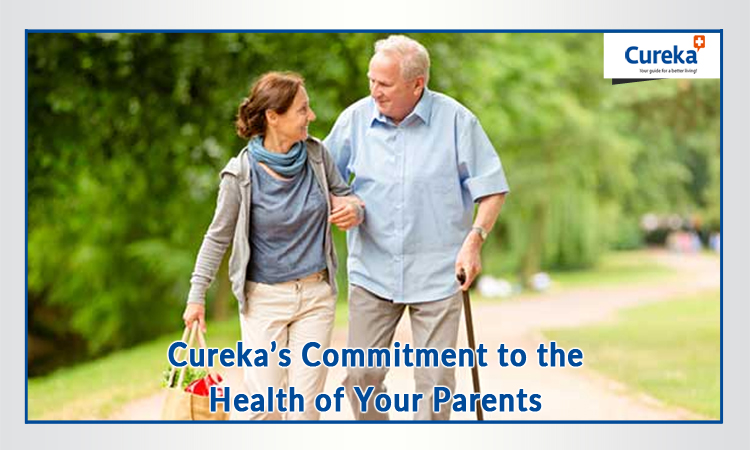 Taking care of elders is not just a responsibility; it's also a core purpose of serving humanity with integrity and dignity. Taking care of the elderly is a simple task if you mix love with the right products to make caring for your parents easy, affordable, and worry free. Cureka is here to help with a range of quality Medical equipment for elderly, which are designed to help seniors enjoy their lives and retain a sense of independence.
The technological boom has paved the way in healthcare to make routine support cost-effective and less time consuming. Seven products that may help you keep your parents healthy for years to come include:
Blood Pressure Machine
Blood Pressure Monitoring Machine the purpose of the equipment is to save your parents unwarranted trips to the hospital and better management of hypertension. Combined with monthly checks a senior citizen will be healthier. Any early warnings of looming issues also will be kept under check .
Glucose Monitor:
A normal glucose level maintained is the way to keep your eyes , kidneys and heart from any lurking damage caused by diabetes. Accurate glucose monitoring is critical to keeping a check on blood glucose levels . It helps one take the right amount of insulin and avoids sudden drops in sugar levels which again is a serious problem in diabetics .
The care you give to your elder should make you and them feel like it's an easy, simple routine for the benefit of health; just like exercise. This advanced glucose monitoring device means you, and your parents, can effectively monitor their blood glucose levels from home.
The Ear Hearing Aid:
Time makes us young again as we age. It may be quite hard for us to walk properly, we need naps during the day, and we may not be able to hear words clearly. This is the circle of life. While some signs of aging are just a fact of life which we all must accept, hearing loss is not one of them. With a quality hearing aid from Cureka, your parents will enjoy the sounds, conversations, and laughter around them for years to come. Giving your parents their hearing back gives them the gift of enjoying the sounds they yearned to hear; this is the ultimate gesture of love and responsibility.Make them hear you, so that communication will create the bond of happiness on both sides.
Get rid of hearing impairment by using our hearing aid. The simple design makes it comfortable for wearing and almost invisible.
Pulse Oximeter
Pulse oximeter effectively measures the oxygen level in ones blood . It is non invasive and very easy to use . Asthmatics need this to make sure they are not getting worse than what they are . Especially with age sudden drop in oxygen levels are noted in some bad asthmatics. One can help their parents out by keeping their oxygen levels under check to avoid emergencies.
Walking Aids
Walking is a very effective exercise at any age . One doesn't need expensive equipment's or expensive gym membership or training videos for this . A slow walk around ones house or somewhere near by keeps one mentally fit too .
Ensure your parents walk safely and confidentially with the right walking aid. A range of walking aids are available with various features so make sure to talk to your Cureka advisor to pick the perfect one for mom or dad.
Step Counters
With three dimensional sensor technologies and lithium ion batteries that give approximately 6 months life, you'll find our step counters useful for years to come. These step counters display the number of steps taken, distance travelled, and calories burned. They even feature historical data so you can review walking trends over time. Make sure your parents stay fit and get at least 30 minutes of aerobic activity each day with our step counters.
Thermometers
Thermometers are more accurate and easier to use than ever. From our cutting edge Dual Mode Infrared Thermometer to the compact Thermoscan Ear Thermometer or our range of Non Contact Thermometers, they come in a range of options. When accuracy and ease-of-use is a must, contact Cureka to pick the perfect thermometer for your parents.
30 minutes of physical activity per day can be tracked with any wearable with multiple features can also prove effective.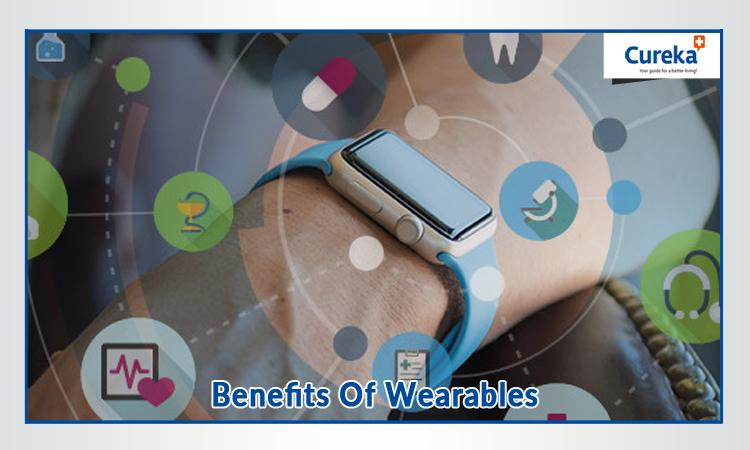 Smart watches and activity trackers has been a huge surge of popularity in wearable technology.
Both companies and consumers are today using different types of techniques for bringing a variety of applications to the market.
1. Encourages Personal Responsibility and Self-Monitoring
The biggest advantage of wearables is that it provides easy access to your personal health data, allowing you to have more control over your own health. You can now finally take your health in your own hands.
2. Having a Higher Awareness about your Operating Levels
When you are able to self-monitor your own health metrics, you are able to better understand how your day-to-day activities are influencing your body. For example, a wearable known as Bootstrap allows you to track your data 24/7, keeping you aware about what exactly is going on in your body. It will even let you know how a night out with friends drinking and partying is affecting your body, or how a day spent at the beach has affected your health.
3. Monitoring your Heart Rate
Most of the wearable fitness trackers are able to measure your heart rate and this is a helpful metric to have with you, especially the measurement of resting heart rate. In fact, knowing and monitoring your resting heart rate is actually a much better indicator of your overall health as it also monitors how your lifestyle is influencing your baseline heart health and how this is going to impact your overall health.
4. Comparing your Health to other Averages
All these wearable technologies allow you to get a better understanding of where you stand compared to others on the health front. For the companies, also, it is possible to predict macro trends and take out averages of people's health across demographics having access to your health metrics. It may help you decide on changing your exercise routine and lifestyle to better match up or do better than the average for your age.
5. Activity Tracking
There are also many wearables that allow you to track a person's activities. This is especially helpful if you want to keep a track of your child. Many wearables come with dual sensors – shoe-clip and wristband, allowing them to track twice the amount of motion data. The GPS function in these wearables also allows you to know a person's location. This is also great if you are leaving a child or toddler at a daycare facility. It helps you also identify and record new activities, allowing you to choose activities that are healthier and will ultimately help you live longer.
The advent of wearable technology today has provided you with the ability to not just monitor your fitness levels, but also view text messages, track location with GPS, monitor your other smart devices, and basically improved the quality of your life, making it far easier to manage things. Perhaps the best part of all this is that wearables allow you to do all this while being hands-free and portable, thus eliminating the need to constantly take the devices out of your pockets.
Dr.Sathish Devadoss,MBBS.,MS(Ortho),M.Ch,
Ortho(UK),FASIF(Aust),
Consultant Orthopaedic Surgeon
Medical Director
Vitamin C is a naturally occurring antioxidant with multiple desirable effects. Vitamin C boosts up the immune system, reduces the severity of allergic reactions and helps to fight off infections.
Did you know ,Unlike plants and animals, humans are not able to synthesize vitamin C in vivo due to absence of the enzyme L-glucono-gamma lactone oxidase. So, we must acquire it from rich natural sources such as citrus fruits, green leafy vegetables, strawberries, papaya and broccoli.
L-ascorbic acid (LAA) is the chemically and biologically active form of Vitamin C. In natural sources, Vitamin C is found in equal parts as LAA and D-ascorbic acid. Though these isomeric molecules are mutually interchangeable, only LAA is active and useful in medical practice.
Oral vitamin C
Dietary Vitamin C is important for maintaining normal functioning of the skin during keratinocyte differentiation and collagen formation.
Vitamin C deficiency causes Scurvy which is characterised by skin fragility, bleeding gums and corkscrew hairs and impaired wound healing.
Many studies have shown an increase in skin vitamin C content following supplementation with oral vitamin C. But the absorption of Vitamin C in the gut is limited and only a mere amount of the drug reaches the skin inspite of high oral dosage. Hence the use of topical ascorbic acid is favoured for most skin conditions.
Potent antioxidant
Intake of oral vitamin C decreases lipid peroxidation and increases superoxide dismutase activity, thereby improving the Antioxidant activity.
Anti-inflammatory
It inhibits the activation of pro-inflammatory cytokines like TNF-alfa, IL1, IL6 and IL8 and has a potential anti-inflammatory activity. It can be used in conditions like acne vulgaris, rosacea, wound healing and to prevent post-inflammatory hyperpigmentation.
Reduces oxidative stress
UV radiation, pollution, and smoking can accelerate damage to the skin through the generation oxidative stress. Vitamin C is one of the most potent antioxidants in the skin as it neutralizes the oxidative stress by a process of electron transfer and/or donation.
Depigmenting agent
Vitamin C interrupts the key steps of melanogenesis and inhibits the action tyrosinase, the main enzyme responsible for the conversion of tyrosine into melanin and decreases melanin formation. It also acts upon the perifollicular pigment. It is used in the treatment of melasma and dark spots.
Wound Healing
Wound healing is a complex process composed of inflammation, new tissue formation and remodelling. Vitamin C has beneficial effect on wound healing which is directly related to its co-factor activity for the synthesis of collagen, and impaired wound healing is an early indicator of hypovitaminosis C.
Anti Aging
Loss of collagen and changes to the dermal–epidermal junction may contribute to aging. Vitamin C is an important antiaging agent as it is essential for collagen synthesis.
Protection against photoaging
Free radicals released due to absorption of solar ultraviolet radiation are highly toxic molecules that can damage the cellular nucleic acids, proteins, and cell membranes. These UV-induced reactive oxygen species also trigger matrix metalloproteinases (MMPs) which degrade collagen, reduce collagen production, and increase elastin accumulation. This leads to wrinkles and photoaging. Topical Vitamin C inhibits MMP production and collagen damage and thereby reduces skin wrinkling.
Protects against photocarcinogenesis
UV radiation induced reactive oxygen species cause p53 gene mutations which affect the repair of damaged deoxyribonucleic acid (DNA) and induce programmed cell death (apoptosis). Topical Vitamin C has shown to reduce UV-induced apoptotic sunburn cell formation, erythema and thymine dimers, thereby reducing the risk of photocarcinogenesis.
Restorer of vitamin E
Vitamin E is an antioxidant that protects the cellular contents against oxidative stress and maintains the collagen network in the skin. Vitamin E levels are rapidly depleted after UV exposure. Vitamin C is known to be the primary replenisher of vitamin E.
Vitamin C is essential for the development and maintenance of connective tissues. It protects the body from free radical damage and is used as therapeutic agent in many disorders.
Kamini Rajasekar