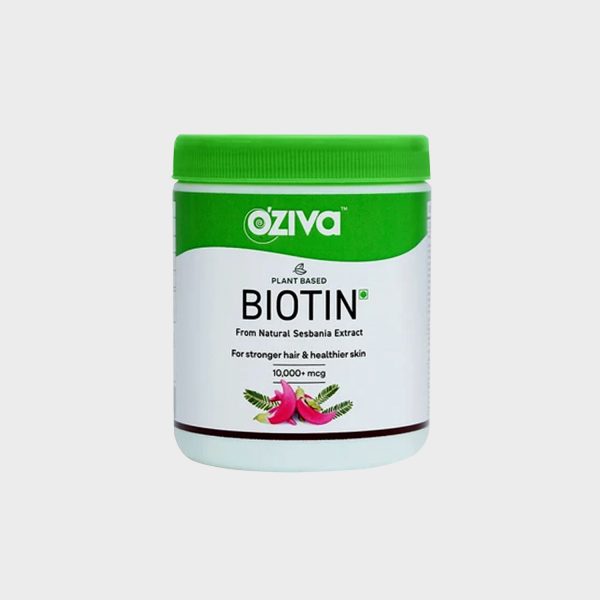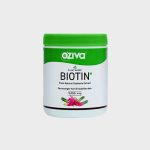 OZiva Biotin for hair growth(10,000+ mcg) 125g
Brand/Mfr. : Oziva
Product Highlights
Promotes healthy, nourished hair, skin, and nails.
Improve your immunity, stamina.
Keeps Skin Youthful.
Enhance healthy blood cells, active lifestyle, neural health.
FREE shipping on all orders
MRP:
Description
Ingredients:
Per Serving (2 Scoops-8g): SesZen-Bio [Sesbania Agati) Leaf Ext.]
(Contains 10000mcg Biotin)
Pomegranate (Punica granatum) Fruit Pwd.
Lemon (Citrus limon) Fruit Pwd.
Green Mango (Anthracothoax viridis) Fruit Pwd.
Beetroot (Beta vulgaris craca) Root Pwd.
Tamarind (Tamarindus Indica) Fruit Pwd.
Fennel (Foeniculum) Seed Pwd.
Bamboo (Bambuseae) Shoot Ext.
Black Salt
Amla (Phyllanthus emblica) Fruit Pwd.
Pink Salt
Naturally occurring sugar
Oziva Plant-Based Biotin is India's First Whole Food Biotin, extracted from Sesbania Agati leaves that are 100 percent natural.
For best results, take 2 scoops in water every day for at least 3-6 months.
With 10000+ mcg Biotin, it promotes healthy, nourished hair, skin, and nails.
With Biotin, you can improve your immunity, stamina, glucose intolerance, energy metabolism, healthy blood cells, active lifestyle, neural health, and more.
Unlike other biotin solutions on the market, which use synthetic isolates manufactured entirely in a lab from industrial chemicals and solvents, Sesbania Extract is a natural, plant-based source of Biotin standardized to 0.5 percent Biotin.
Because OZiva Biotin is an easily soluble powder when mixed with water, it is readily absorbed by cells.
Gluten-free, soy-free, non-GMO, no artificial sweeteners, and 0g sugar.
Directions of Use:
Mix 1-2 scoops in 100-150 ml of water.
Stir well and enjoy it.
Safety Information:
One serving (2 Scoops-8g) per day is recommended for adults.
Frequently Asked Questions:
Is OZiva Plant Based Biotin benefits or suitable for everyone?
OZiva Plant-based Biotin is suitable for anyone aged 16 to 65.
How should OZiva Plant-Based Biotin be consumed?
It is normally recommended that you take it before going to bed. However, with the guidance of our nutrition experts, you may personalize it to your specific goals and lifestyle.
Is it safe to take OZiva Plant-Based Biotin while pregnant?
It's a completely natural and risk-free product. However, we recommend that you double-check with your gynecologist before taking it.
Can I still use OZiva Plant-Based Biotin if I don't exercise?
You certainly can. The nutrition will still be beneficial to your body. However, we advise that you engage in at least 30 minutes of physical activity each day.
When I stop using OZiva Plant-Based Biotin, what happens?
Except for the fact that your body will no longer receive its daily dose of clean plant-based Biotin, nothing should happen if you maintain a healthy diet and lifestyle.
What if OZiva Plant-Based Biotin doesn't suit me?
Plant-Based Biotin from OZiva is developed with your safety in mind.
What kind of outcomes can I anticipate from this product?
This product is designed to promote the health of your hair, skin, and nails. Please keep in mind that when accompanied with a balanced diet and lifestyle, it takes 2-3 months to see the optimum benefits.
When can I see the results?
In most cases, with consistent usage of the product and a good diet/lifestyle, you should see results in around 3 months.
Is this a vegan product?
Yes, 100% vegan.
What distinguishes OZiva Plant-Based Biotin from other Biotin Supplements on the market?
Synthetic Biotin Supplement is the only Biotin Supplement available on the market. Sesbania, Bamboo shoots, Amla, Pomegranate, and Lemon are included in the OZiva Plant-Based Biotin-Lemon Flavour. Hair that is nourished, healthy skin, and nails that are stronger are all benefits of these components.
When is it necessary for a consumer to consume this product?
This product is safe to consume for a long time. This product has no side effects and can be consumed for a long time.
Can this product be consumed by pregnant or lactating women?
This product is safe to consume by pregnant or lactating women. However, it is recommended that they seek medical advice before using it.
Is this product safe for diabetics?
This product is suitable for diabetics to consume. However, it is recommended that they seek medical advice before using it.
When is the best time to consume?
It is suitable for consumption at any time of the day. It's a good idea to leave some gap between supplements.
Are there any possible interactions or negative effects?
According to the clinical data available, no drug interactions or side events have been recorded.
How big is each serving and how long will it last?
Once a day, take 8 g (2 scoops) in 150 ml water and drink, and it will last for 15 days.