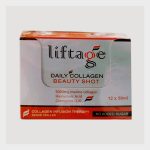 Ethicare Liftage Daily Collagen Beauty Shot (12 x 50ml)
MRP: 2,999.00
Collagen Beauty Shot is an anti ageing drink.
Reduces wrinkles, increases skin's elasticity & hydration level.
Description
Increases body's natural ability to produce own collagen.
Maintains the strength & flexibility of skin & provides foundation for beautiful skin & stronger connective tissue.
Works at a DEEPER level of collagen metabolism in the DERMIS.
Ingredients – 5000mg Marine Collagen, Hyaluronic Acid, Co-enzyme Q10.
One shot per day. You can drink one shot at a time or you can finish one shot in a day by drinking half portion in morning and remaining half portion in evening
Just make sure to finish 50 ml shot in a day
It tastes best when served chilled in morning
Acidity Regulator (INS330), Permitted Class II Preservatives (INS219, INS217, INS211), Thickener(INS415) Emulsifier(INS466), Sweetener (INS951), Colour and flavour.