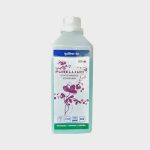 Purellium Alcoholic Handrub Gel (Hand Sanitizer) – 500ml
MRP: 467.00
Powerful alcoholic handrub gel with moisturizer.
For surgical and hygienic hand disinfection.
With a rapid bactericidal, fungicidal and virucidal action.
Expert's Advice

Always use 2-2.5 ml to apply over the hands. Can be used in sensitive skin too.
Description
Rub 3ml of Purellium Gel well over clean, dry hands and nail grooves for at least 30 secs until dry.
For surgical use – Repeat the above process thrice for 5 minutes.
Consists of 62% v/v Ethyl alcohol IP denatured with 3.3% v/v Isopropyl alcohol IP,
Skin emollients, Perfume, Gel base, and Brilliant Blue FCF as colour.
Has a broad spectrum such as Bactericidal, Fungicidal, and Virucidal.