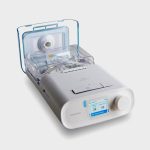 PHILIPS RESPIRONICS Dreamstation BIPAP Auto Machine
MRP: 74,000.00
Positive airway pressure (PAP) sleep therapy devices are designed to be as comfortable and easy to experience as sleep is intended to be.
Description
Built-in Bluetooth makes connectivity to the patient self-management tool easy.
Display shows a simple trend of nightly hours of user, followed by a summary of the last 30 days.
Helps people gradually acclimate to therapy and allows users to fall asleep to lower pressures.
Modular design and most cost-effective option.