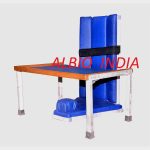 Albio CP Corner Chair for Children with Activity Table and Thigh Seperator
Brand/Mfr. : Albio
Product Highlights
Useful for the Childerns who cannot sit up on his own and who needs his back, shoulders and upper trunk supported.
Allows the child to be independent, with hands free for play, while maintaining optimal erect trunk alignment.
FREE shipping on all orders
Description
Has a wide secure base for stability with activity table to facilitate learning or play.
Improves bone strength, cardiovascular, respiratory, digestive and bowel function, and general well-being
Thigh seperator is provided for child comfort.
Back Rest are Height adjustable as per Child Comfort.
Activity table can be used seperatly for study & dining or as per requirement.