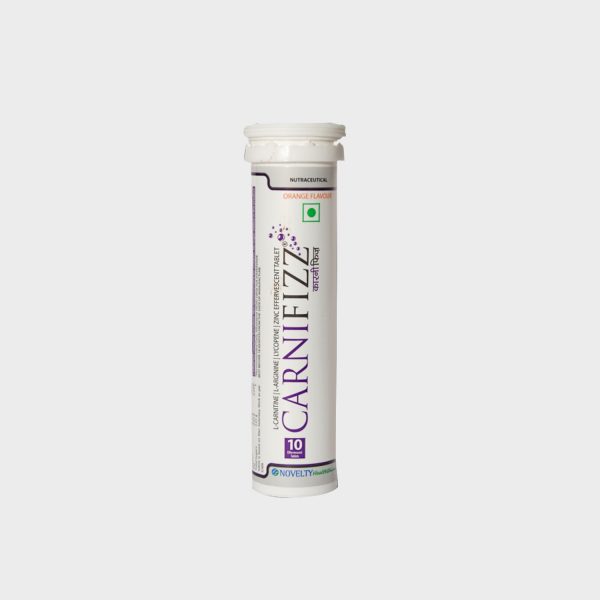 Carnifizz Zinc Effervescent Tablet (10 Nos)
Product Highlights
Reduces fatigue.
Reduces muscle aches.
Improves exercise capacity.
Improves oxygen level in muscle cells.
Maintains overall health.
Prevents kidney damage.
Expert's Advice

Safe for diabetic patients and also provides 100% energy replenishment when you have a hectic day.
FREE shipping on all orders
MRP: 265.00
Description
The unique combination of 4 potent nutrients provides multiple benefits to the muscles. Reduces muscle cramps and chronic fatigue syndrome.
Effervescent tablets provide easy absorption, gentle on the stomach, delicious orange taste, and on-the-go nutrition.
Can be used as a pre-workout supplement to increase muscle output.
100% vegetarian and natural ingredients that decrease oxidative damage and increase stamina.
Improves blood flow to the muscles.
L-Carnitine also helps to burn fat.
Delays the onset of fatigue and also improves oxygen levels in muscle cells.
A nutritional supplement that promotes overall health.
L-carnitine aids in the proper functioning of the kidney, liver, and heart muscles.
L – arginine prevents narrowing of blood vessels thus improving blood flow and stimulating growth hormone, insulin.
Zinc supports the immune system and provides growth and development of body cells.
Rich in anti-oxidants.
Dosage :
2 tablets per day or as directed by the physician.
The direction of use :
Take 200 ml water in a glass.
Add 1 effervescent tablet and wait until it dissolves completely.
Drink the tasty instant energy and carry on.
Storage :
Store below 25oC. Replace the cap tightly after every use.
Ingredients :
L-Carnitine 250mg:  increases muscle strength and is also essential for mitochondrial energy production.
L – Arginine 1500mg: increases oxygen supply to muscle cells and improves exercising ability.
Zinc sulfate 2.5 mg: plays a key role in biochemical reactions in the muscles. Prevents muscle cramps.
Lycopene 12.5 mg: reduces oxidative damage and inflammation.